Cheyron for companies
A CSR-approach starts with the definition of your stakeholders
as well as the key elements composing your corporate image.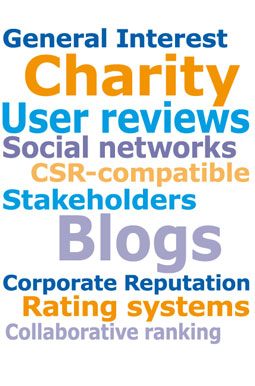 A wide variety of CSR-related aspects are available to choose and implement
according to your profile.
The development of an efficient CSR-policy
requires a strategic approach.
What is your opportunity regarding the company's core CSR subject? What about your CSR-involvement level? To what extent your business working processes and/or suppliers are compatible with your CSR-policy ? Can you increase the results of your CSR-investment? And last but not least: how to communicate on CSR-matters towards your different stakeholders?
Cheyron assists companies with their CSR-matters :
we develop an in-depth insight and realise visible activities.
What about your charity and/or general interest projects?
Your CSR-policy can be translated into charity projects and / or specific general interest projects in order to meet certain society's needs. This leads to the following issues:
are charity and general interest projects embedded in your company CSR-policy?
To what extent these projects contribute to your company's Social Reputation?
What is the impact of your actual sponsorships with (a) NgO(s) on your corporate reputation? Which strategic partnerships with NgO organisations can contribute in achieving your CSR-goals?
Cheyron assists your organisation to turn your social goodwill into a win-win situation for both the company & NgO.
For more information on the Cheyron-services for companies.